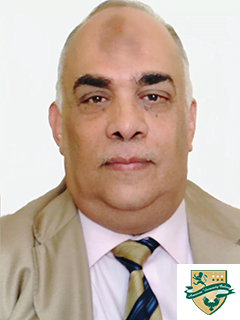 Dr. Refaat Amin
Regional Public Relations Director
Dr, Refaat Ameen is Ph.D. holder in Education. I have thirty-seven years' experience in Consultation, Training, Teaching, Translation, affiliation, and management in Egypt and abroad (Saudi Arabia, Emirate, Bahrain, Yemen, Malaysia, Turkey, Italy, Switzerland, and Britain).
I started my career as an instructor of English in Egypt, and then I joined postgraduate studies, Master's, doctorate, studied methodology, and curriculum of English language teaching from AUOL.
I teach in various educational sectors (schools, institutes, academies, and universities).
The field of study was in the English language (general – ESP). I do consultation for different academic centers to plan, organize and manage the technical and administrative parts. I also participate in the choice of the curriculum of those educational sectors to match the country, environment, and the level of students.
I do training with public and private sectors in Saudi Arabia to qualify their staff in language study. For example, I have training contracts with king Abdul-Aziz University hospital, Sabic company, Al Rajhi Bank, Al Jazeera press, Alwatanyia company, Redan for restaurants, Alswary company, etc.
I also share in translation projects, and at that time, I had a translation office at Makkah to do all kinds of translation with various languages.
I have various translators of different languages (Spain – Italy – Germany – French – English), etc.
Then I move to another educational business (affiliation). I have contracts inside Egypt and abroad ( the institute of Arab studies, Evergreen Academy, Stratford university New York University, American University of London international university ). I am in charge of the admission section to send students to study there.
I do management in many educational parts as I was a chief of English department in the Arab university for science and technology, Jeddah branch. In addition, I was a technical director for the top training international institute Jeddah, Supervisor of all training projects I have in the kingdom of Saudi Arabia.
The scope of my experience and study is to match them with the massive internet data and the revolution of technology that changes the world completely.
And also try to convey all new information for all candidates interested in our fields of study.
I intend to extend that scope to values countries with different cultures. I believe in alliances in all majors to complete each other and not to compete, as this is my vision to implement everything.